Watch Maroon 5 and Cardi B's New Music Video Starring a Bunch of Powerful, Inspiring Women
The feeling was pretty much mutual across the board.
The rest of the cast is as follows: Immigrant activist Angie Rivera; author Franchesca Ramsey (whose book, Well, That Escalated Quickly came out in May); Millie Bobby Brown; Ellen DeGeneres; Jennifer Lopez; Chloe Kim; Mary J. Blige; Danica Patrick; soccer star Alex Morgan; Elizabeth Banks; Ashley Graham; Lady Bird actress Beanie Feldstein; activist Jackie Fielder, founder of the San Francisco Defund DAPL Coalitionand member of Mazaska Talks; Minnesota House member Ilhan Omar; Rita Ora; and Behati Prinsloo and her and Adam's second child, a baby girl born in February.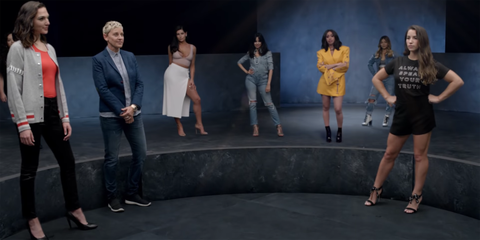 If you don't have a pick for song of the summer yet, this one's a pretty good contender. Ladies, we bow down.
Correction: An earlier version of this story stated that Jackie Fielder was part of the Lakota Peoples Law Project. She left the organization in October 2017.